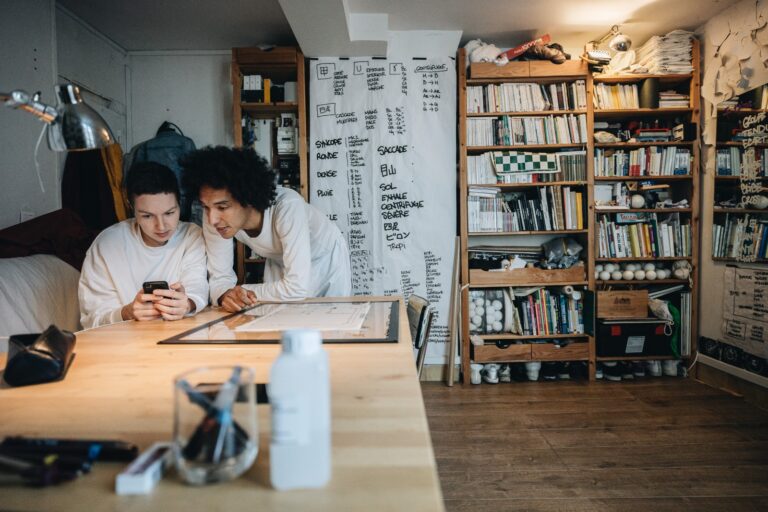 Taiji – artistic workshops with the Compagnie Defracto
Action culturelle
The Defracto Company is hosted by the Maison des Jonglages for a territorial residency supported by the Department of Seine-Saint-Denis in 2022-2023.

Guillaume Martinet and Margot Seigneurie propose a series of initiation and practice workshops for different audiences in order to introduce them to the artistic universe of the company through the Taiji project.
Planning
Between June 2022 and April 2023.
The creation of Taiji stems from an empirical need to memorize and think about a personal and intimate practice of juggling. It follows the theorization of this practice through the exercise of pedagogy.
The objective is to communicate information essential to the performance of physical skills specific to juggling. Taiji meets the need to write and create juggling without the need to acquire technical knowledge.
Taiji is a language. Taiji is written, pronounced and moved. Taiji was designed to meet the specific needs of the Defracto juggling translation. It rests on a base of elements that are the body, the objects, the space and the time and is concretized by a translation of the movements of the body. It is a tool for the creation of technical knowledge and transmission. Taiji is now available to everyone.
Taiji is a language composed of 80 characters and about 30 sounds from various languages. It is composed of ideograms and is pronounced using a morphophonological alphabet. Each word designates a movement of the body. The language is articulated by the pronunciation of the movements. It is designed with a stable and predictable structure that allows it to be learned in a few hours.
The different workshop modules offered are :
Ø A juggling workshop specific to the Defracto Company. The focus will be on a body practice with multiple dimensions and the selection of the information necessary for the realization of a movement. The most important thing is concentration, or concentrations. The company proposes the discovery of these: the body, space, time, objects, weight.
Ø A practical workshop on typography and calligraphy which aims to teach the writing of the Taiji characters and their proportions. Artists and participants will practice drawing with paint markers on giant kraft paper.
Ø A phonetics workshop which will allow you to discover the pronunciation of the Taiji characters. The artists and participants will use the sounds as a modulable material and will use their vocal abilities to speak this language.
Ø A practical workshop on writing and transcribing the Taiji language. A short juggling piece will be presented and then participants will use Taiji to transcribe the piece. They will use kraft paper, paintbrushes and markers to interpret this juggling act in writing.
The Defracto Company is supported by the Department of Seine-Saint-Denis in the context of its residency at the Maison des Jonglages in La Courneuve
---