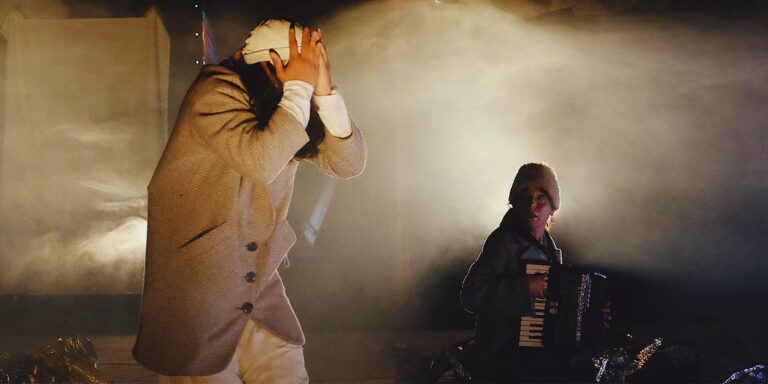 Natalia Butinova
Taking the ball and running with it – shared creation
Action culturelle
People with mental and/or psychic disabilities from the E.S.A.T. Le Carrefour in La Courneuve and the S.A.S Bel-Air in Stains follow, with the juggler Alejandro Escobedo Guillaume, a course of workshops of discovery and practice of juggling, manipulation of objects and art of the clown with the aim of creating a show, starting from the desires and competences of each one.
Planning
October 2022 to June 2023
This session has passed

Le Thursday 20 October 2022 (10:00)
Espace d'accueil : texte espace d'accueil
This session has passed

Le Saturday 15 April 2023 (16:00)
Espace d'accueil : texte espace d'accueil
This session has passed

Le Saturday 03 June 2023 (10:00)
Espace d'accueil : texte espace d'accueil
This project of shared creation aims to encourage autonomous access to culture and openness to artistic creation, vectors of socialization and emancipation, for the disabled public.
Alejandro Escobedo and the participants will start from a work of the body and its power of expression. They will question the relationship to the body, its aesthetics and its social representation. To dance one's body, to play with one's body and the environment that surrounds us and to make one's soul dance. No matter the physical limits, they will seek the power of the belly, the will of the spirit, the generosity.
From this meeting between men and women and between the difference that characterizes us all, the objective is not to provide ready-made answers or to give lessons but to start from the desires, skills and ideas of each person. Juggling, clowning and object manipulation are artistic and social practices that contribute to human enrichment, in a constant dialogue and sharing of experience between participants and artists.
At the end of the course, two public performances will be organized. The first one will take place during the heart of the festival Rencontre des Jonglages in April 2023 in La Courneuve, and the second one in June 2023 within the framework of the Gala around inclusion organized by the FSGT 93.
This project is supported by the ARS and the DRAC Île-de-France as part of the Culture & Health program and by the Kunz Foundation.

---