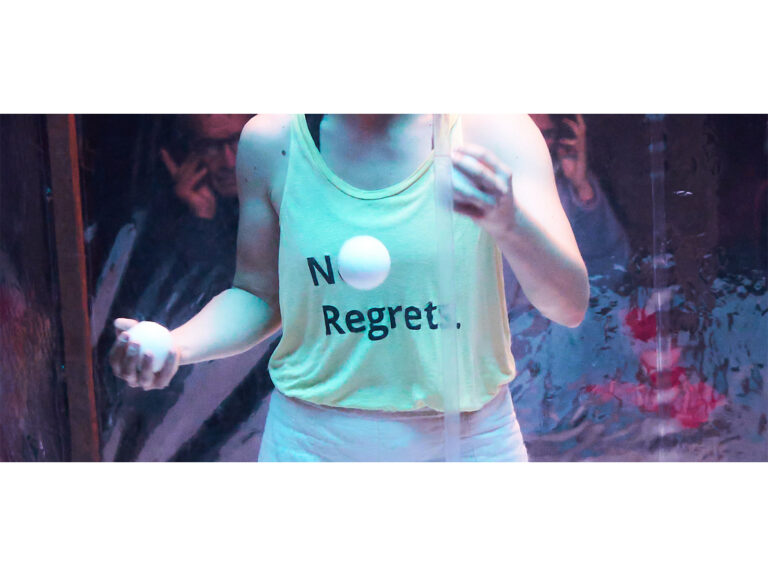 Professional training
Formation professionnelle /

3 days
Présentation
This workshop will focus on the rhythmic choreography of juggling. We'll also be working on connecting juggled material to various written texts, and playing with how movement and words merge to create surprises, paradoxes or shifts in meaning. The mornings will be devoted to rhythmic and physical juggling, and in the afternoons we'll be writing juggling to text and exploring the possible links between the two.
Planning
Friday, March 8 to Sunday, March 10, 10 a.m. to 5 p.m.
Informations tarifaires
To confirm your registration, you should either:
- Send a check for 150 euros to the order of "Maison des Jonglages", to the postal address:

Maison des Jonglages C/o Jean Houdremont Centre Culturel,
11 avenue du General Leclerc,
93120 La Courneuve.

- Make a bank transfer of 150 euros, specifying "Neta Oren Training + First and Last Name" (ask for RIB at festival.maisonjonglages@gmail.com).
Date limite d'inscription
Thursday 07 March 2024
> Click here to register
Du Friday 08 March 2024 (10:00)
au Sunday 10 March 2024
Espace d'accueil : 8th in the white studio, 9th and 10th in the small tent
Price: 150€.
Du Sunday 10 March 2024 (10:00)
au Sunday 10 March 2024
Price: 150€.