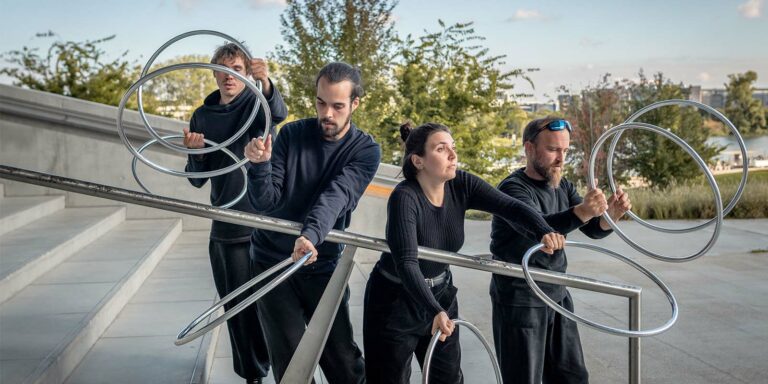 Camille La Verde
O.N.D.E
Le Cirque Graphique
Saison culturelle /
Résidence
Public space
Graphic manipulation
Representation(s)
The representation has passed

Thursday 15 September 2022 / 18:30
Reception area :Public space

Thursday Juggling – Free
Residence(s)
The residence has passed

Du Monday 12 September 2022 (10:00)
au Saturday 17 September 2022
Espace d'accueil : Espace public
The show is private
The residence has passed

Du Saturday 17 September 2022 (10:00)
au Saturday 17 September 2022
Espace d'accueil : Espace public
The show is private
Where has the wildness gone in our lives and our ultra-urbanized cities?
We aspire to question our relationship to public space, urbanized or natural. By drawing attention to the presence or absence of social, animal and plant life forms.
How can we return to nature if we no longer know how to observe it? Perhaps we will tell our descendants about our memories of snakes, describing their movements in the manner of shamans.
We wish to create a show of graphic manipulation of objects in public space to make live an abstract puppet made of hoops, moved with dexterity and meticulousness. The hoops, inert objects, seem to levitate, connect and interlock to form this new ingenuous, organic entity. In a sort of bizarre ritual, the O.N.D.E. forms in the distance, surveys its new territory until it is as close as possible to the crowd.
In the manner of Chinese dragon puppets, the O.N.D.E. discovers the space and leaves on its passage a strange sensation of a furtive vision. The architecture of the space is transformed into a theater of play and life, a place of adventure in which everything is possible.
The Graphic Circus
created by Pich in 2018 aims to carry creations that follow a graphic aesthetic, in solo and collective and more broadly to gather and promote through pedagogy the artistic practices that follow this aesthetic. The first creation of the company and Pich's last solo, "Obsession Graphique" was released in the summer of 2021 at the Festival Les Scènes Vagabondes in Nantes .
[Distribution]
Artist :
André Hidalgo
Pich
Aïcha De Almeida
Thomas Lechat
[Production]
Production : L'Asile ArtistiK
Co-productions and residencies : ARCHAOS – Pôle National Cirque – Marseille, Le Komonò Circus – La Teste de Buch, Le Citron Jaune – Centre National des Arts de le Rue et de l'espace public – Port Saint-Louis du Rhône, UP Circus – Brussels, Les Fabrique(S) – Ville de Nantes, l'Etabli – Le Petit Travers – Lyon.
Support : The ZEF – Zone d'Expérimentation Facilitée, a project of the ktha company
> The Graphic Circus