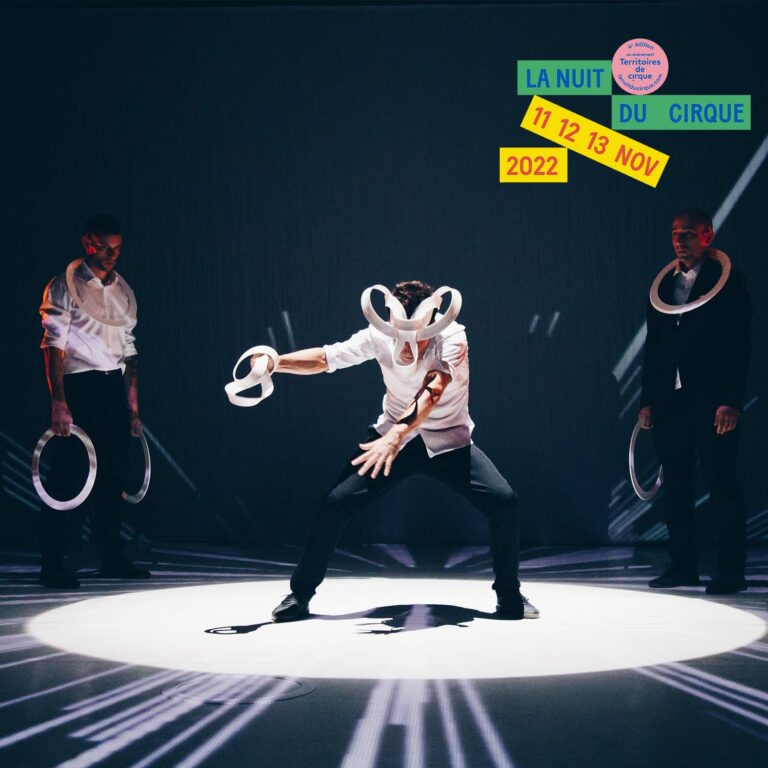 Macarena de Noia
Circus Night : Juventud
Nicanor De Elia
70 min

/

From 8 years old

/

Saison culturelle
Long form
Rings
Graphic manipulation
Frontal
Representation(s)
The representation has passed

Saturday 12 November 2022 / 21:00

No Cournouvien-ne :

Full price: 10€.
Reduced rate*: 6€.

 

Cournouvien-ne :

Full price: 6€.
Reduced rate*: 3€.
As part of the Circus Night, an international event organised by Territoires de Cirque, with the support of the French Ministry of Culture.
Juggling is a solitary pleasure. Borrowing passing through from choreographer David Zambrano, Nicanor de Elia leads five jugglers to abandon the security of autarky. With youth as a starting point and the future as a horizon to be recharged with promising energies, they embark on a game of variations mixing juggling, movement, sound, light and video. In an ascending spiral, they rush, get lost and caught up, affirm and contaminate each other, in search of a combination that will suck them into a common dynamic, both plural and shared.
Nicanor De Elia
Nicanor de Elia, juggler, dancer, choreographer, teacher and director, focuses his work on the opening of emotional spaces, sharing with the public, questioning the theatrical, aesthetic and spatial forms of play. Concerned with innovation, he willingly leaves the beaten track to develop a new transversal language, where the multiple forms of the current circus are projected towards the future.
With his company NDE, he creates shows at the edge of dance and juggling, with the G.Bistaki (FR) he questions the space of play and the manipulation of objects and opens spaces of artistic laboratories and research with the Garage29 (BE).
Nicanor goes to meet circus schools in Europe and other companies to share his experience with new generations. He collaborates with ESACTO-LIDO in France, ESAC in Brussels and CODARTS in the Netherlands.
[Distribution]
Producer :
Nicanor De Elia
Artists :
Juan Duarte Mateos, Lucas Castelo Branco, Nahuel Desanto, Gonzalo Rodriguez Fernandez, Walid El Yafi
Playwright :
Olivier Hespel
Sound Designer :
Giovanni di Domenico
Video creation :
Guillaume Bautista
Lighting Designer :
Florence Richard
Light control :
Lilian Guitou
Production and Administration :
Luz Fernandez / Le Chalumeau
[Production]
Partners, residency, support
A co-production of Mars – Mons, performing arts (BE)
UP! Festival Circus & Performing Arts (BE)
Theater Op de Markt – Dommelhof (BE) / CIRCa – pôle National Cirque – Auch (FR) / La Grainerie – Fabrique des arts du cirque et de l'itinérance (FR) / Maison des Jonglages, Scène Conventionnée La Courneuve (FR) / Centre Culturel Théâtre des Mazades (FR) / Circuscentrum (BE) / Latitude50 (BE) / Garage29 (BE)
The Occitanie Region – The DRAC Occitanie – The City of Toulouse – The Wallonia Brussels Federation – Spedidam – Occitanie en Scène
Le Chalumeau Production
> More informations on the show and the company
Special information(s)
[*Reduced price]
For RSA beneficiaries, people with reduced mobility, holders of the large family card, unemployed people, students, under 18 years old, over 60 years old