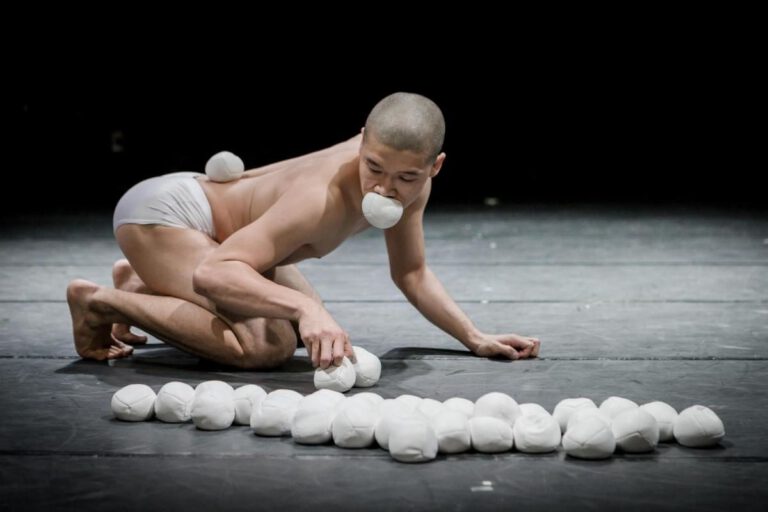 Professional Training
Formation professionnelle /

3 days
Planning
From Wednesday 19 to Friday 21 January 2022 // 10 a.m. to 1 p.m. and 2 p.m. to 5 p.m.
Informations tarifaires
To confirm your registration, you should either:
- Send a check for 150 euros to the order of "Maison des Jonglages", to the postal address:

Maison des Jonglages C/o Jean Houdremont Centre Culturel,
11 avenue du General Leclerc,
93120 La Courneuve.

- Make a transfer of 150 euros specifying as title "Hisashi Watanabe Training + Name and First Name" (ask bank details at amelie@maisondesjonglages.fr).

Additional information: amelie@maisondesjonglages.fr
Date limite d'inscription
Tuesday 18 January 2022
> S'inscrire
Cette séance est passée

Du Wednesday 19 January 2022 (10:00)
au Friday 21 January 2022
Espace d'accueil : Juggling Studio
Price: 150 €
In this mastersclass, Hisashi teaches a unique technique that combines contortion, handstand and juggling. You'll learn how to stretch with your skin, juggle on the floor, and more advanced techniques like handstand ball manipulation, which you probably won't be able to learn anywhere else.
In the last part of the course, we will work in pairs to create movements, and in groups to create an improvised performance, applying the skills learned in the course.