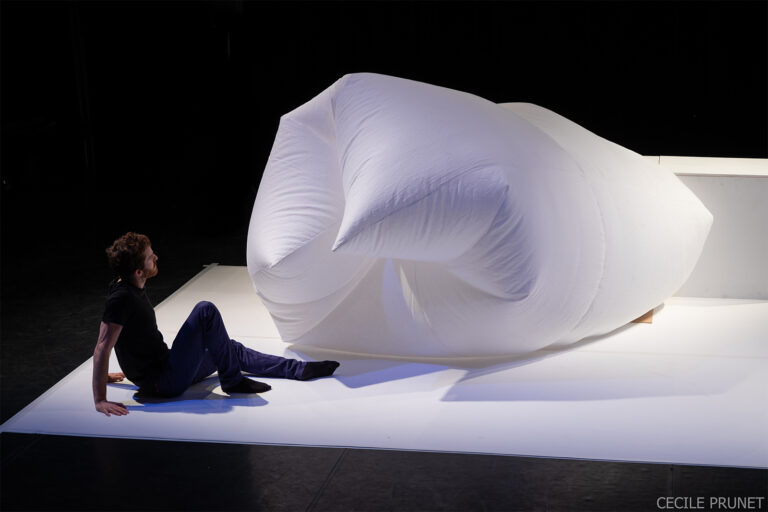 © Cecile Prunet
FabriK
Cie Kor
45 mins

/

From 5 years old

/

Festival
Long form
Inflatable
Frontal
Heart of the festival, Outside the Walls
The fantastic story of the creator and his creature.
FabriK is the initiatory story of a man who will learn to move, to play and to feel, but above all, to the great surprise of its designer, will discover his free will.
During their shared history, these two beings will learn from each other and turn the codes of creation upside down by blurring the lines between "the one who knows" and "the one who discovers".
Cie Kor
The company Kor was created in 2019 in Île-de-France.
The company develops atypical show and cultural action projects aimed at the most complete immersion around specific thematic arcs which are: the relationship to time, the circus choreographic vocabulary and transgression.
Jean-Baptiste Diot and Bastien Dausse met at the Académie Fratellini and worked together under the direction of Jérôme Thomas and Yoann Bourgeois. In 2012, they create the show Aller Simple, a young audience circus creation that will stop after 130 performances to make way for the first show of the Kor Company: FabriK.
[Distribution]
Writing and interpretation :
Jean-Baptiste DIOT
Bastien DAUSSE
Construction and scenography :
Dominique FROMENT
[Production]
Support : DRAC Île-de-France, Sham shows, Les Noctambules, Espace Jacques Brel, Le Sax, La Maison des Jonglages, The Fratellini Academy
> More informations on the show and the company
Special information(s)
[School Representations]
The April 15 performances are school performances, not open to the public.