Around the shows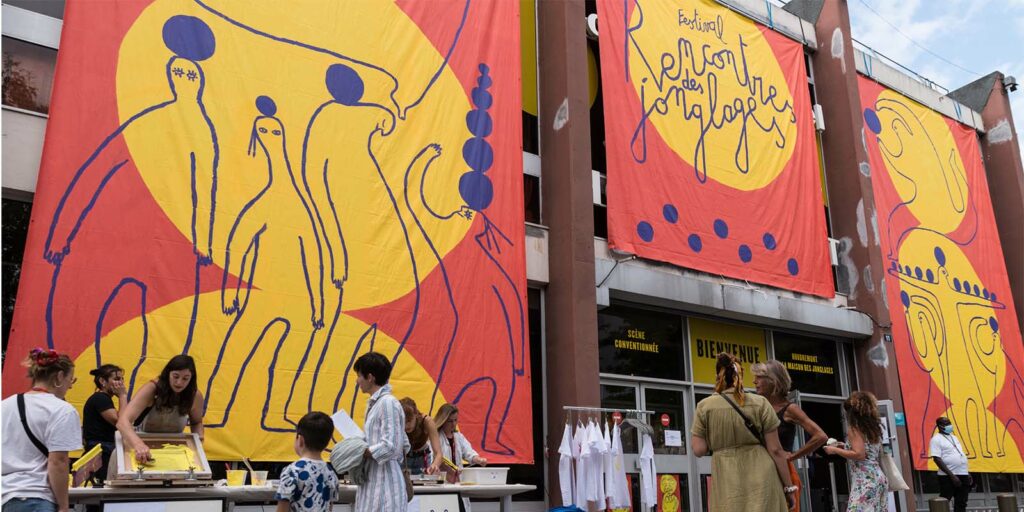 © Tomas Amorim
Show from a workshop : "Prendre la balle au bond – shared creation"
People from E.S.A.T. Le Carrefour in La Courneuve and the S.A.S Bel-Air in Stains are following a series of juggling, object manipulation and clowning workshops with Alejandro Escobedo from Cirque Cosmique throughout the 22-23 season. They will present a short form, the fruit of their creative work.
With support from DRAC Culture et Santé and the Kunz Foundation.
Saturday, April 15, 4 p.m. – Hall of the Jean Houdremont cultural center, La Courneuve
Free Entry
From & with : Bintou, Christelle, Tiphaine, Sylvain, Nella, Miloud, Nissa, Jonathan, Lucas, Aimé, Woody, Sharafaath, Nathan, Rosine, Léa, Céline, Maryam and Wilane.
Leisure Center Day
A day at the Parc départemental Georges Valbon for children from La Courneuve's leisure centers, featuring 2 shows, A Tiroirs Ouverts and Uni-Sphere, as well as juggling (Chippi Axel) and freestyle soccer workshops.

Wednesday, April 12th

10:00 a.m. to 4:30 p.m., Uni-Sphere at 10:45 a.m. and 2 p.m. and A Tiroirs Ouvers at 11 a.m. and 2:15 p.m.

at Parc Départemental Georges Valbon, La Courneuve

Children's Festival
A day dedicated to children from the town of La Courneuve taking part in the artistic and cultural education programs run by the Maison des Jonglages between 2022 and 2023. An opportunity for children to meet and share a festive moment. During the day, they will have the opportunity to present their flashmob prepared in advance in workshops with Chippi Axel and Cécile Rolland, to attend the performance of NUIT by Collectif Petit Travers and to take part in juggling games.
Thursday, April 13, 10:00 a.m. to 4:00 p.m. at Houdremont Centre culturel, La Courneuve
Festival workshops
Throughout the weekend, juggling workshops with Chippi Axel, screen-printing, games and other surprises await you.
Saturday and Sunday, April 15 and 16, 2 to 6 p.m., Place de la Fraternité, La Courneuve
Tulip Festival – Surprises for your neighbors
An echo of the Festival at the Fête des Tulipes in Saint-Denis with 3 shows in public spaces!
Our neighboring towns and programs will interact, just a 6-minute bike ride away, and let you (re)discover some superb juggling propositions.
3 companies with a European dimension.
Saturday 15 and Sunday 16 April from 2 pm at Parc de la Légion d'Honneur in Saint-Denis