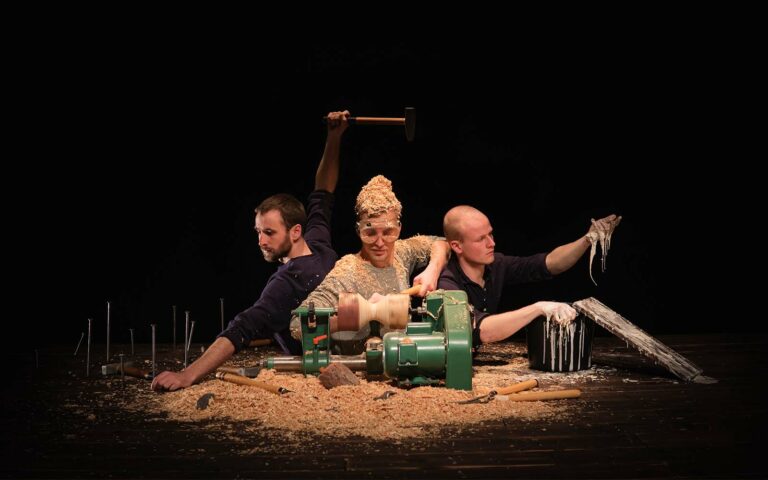 ©: Jona Harnischmacher & Cosmin Cirstea
Sawdust Symphony
Michael Zandl, David Eisele et Kolja Huneck
60 mins

/

From 10 years old

/

Festival
Long form
Tools
Frontal
Heart of the festival, Outside the Walls
Representation(s)
The representation has passed

Friday 01 April 2022 / 20:30

Full price: 17€
Reduced price: 10€
– 18 years old: 5€
The representation has passed

Tuesday 05 April 2022 / 20:00

Full price: 12€
Group rate: €9
Reduced price: 6€
The representation has passed

Friday 08 April 2022 / 22:15

Full price: 12€
Courneuve residents: 10€
Reduced price*: 6€
Full price festival pass: 60€
Reduced price festival pass: 30€
Have you ever seen a dancing sander? Grinder discs spinning? Hammers flying? Michael Zandl, Kolja Huneck and David Eisele are young circus artists from the Netherlands with a revolutionary show. The public surrounds a square where a large wooden cube is placed. The three artists will saw, grind, nail it… to transform it. Marrying circus and craft, they use many DIY tools as play props. Between juggling, acrobatics and visual illusions, they show how man can use technology but also become its object… Intelligent, sensitive, and arch-spectacular.
Michael Zandl
He is an Austrian creator and circus artist who graduated from Codarts Circus Arts in Rotterdam in 2017. His work reflects his passion for absurd situations and subtle humour. He finds in these tools a powerful source of expression. Technical subtleties and special effects are at the rendezvous of his shows. Building the scenography, props and illusions himself is an integral part of his creative process. Since 2021 Michael has been an associate artist of the Korzo Theater in The Hague and is currently on tour with "Sawdust Symphony" and his solo "Janus".
David Eisele
He grew up near the Black Forest near Freiburg, Germany. He is an energetic person with a minimalist lifestyle. The passion to discover the extraordinary capacities and possibilities of the body and objects is at the heart of his artistic expression and source of motivation. Redefining the Diabolo and translating the emerging qualities of the Diabolo and the Cyr Wheel into different contexts are central to his work. Graduated in 2018 from Codarts Circus Arts in Rotterdam, he produced and is on tour his solo performance "CYCLE". His award-winning act 'Senses' took him on a journey through eight countries with over a hundred performances.
Kolja Huneck
He is a writer and circus artist from Munich, Germany. In 2019 he graduated in Object Handling from Codarts Circus Arts in Rotterdam. Currently, her work and interests focus on contemplative circus plays and alternative dramaturgies that stimulate thought or provide fleeting sensory experiences. His signature objects are vinyl records and self-developed records. In addition to working in the collective with "Sawdust Symphony", he turns his solo piece "CM_30".
Korzo
Korzo in The Hague is a place of development where people from all over the world meet. A house where talented choreographers, creators and performers have the opportunity to develop further and then move on. A house where artists have the time and space to try themselves, fall and get back up. In addition to identifying, mobilizing and supporting these talents, Korzo also takes initiatives to initiate new developments. Coming from various artistic disciplines and open-minded, the projects and creators are placed in an (inter)national context and brought into dialogue with the public. Korzo has been doing this for 35 years with a rich network of partners.
[Distribution]
Creators and artists :
David Eisele, Kolja Huneck, Michael Zandl
Artistic support :
Lucho Smit, Darragh McLoughlin
Composition :
Juliano Abramovay et Lasse Munk
Scenography/special effects :
Philipp Dünnwald et Michael Zandl
[Production]
Produced by: Korzo
Co-produced by: Provinciaal Domein Dommelhof – Theater op de Markt, Le Palc – Pôle national cirque – Châlons-en-Champagne
Partners/residencies: Latitude 50 – Pole for circus and street arts, Werkplaats Diepenheim, Dynamo – Workspace for circus and performing arts, La Transverse – Open Stage for Public Arts, Gutsverwaltung Fischhorn, TENT
Funded by: Dutch Ministry of Culture, Municipality of The Hague, Federal Chancellery of the Republic of Austria
> Sawdust Symphony website
Special information(s)
[*Reduced price]
For people without jobs, RSA beneficiaries, large families, students, under 18s, Vermeil card holders, disabled, groups of more than 10 people .
[Festival pass]
[Professional Reservation (Only for Friday April 8)]