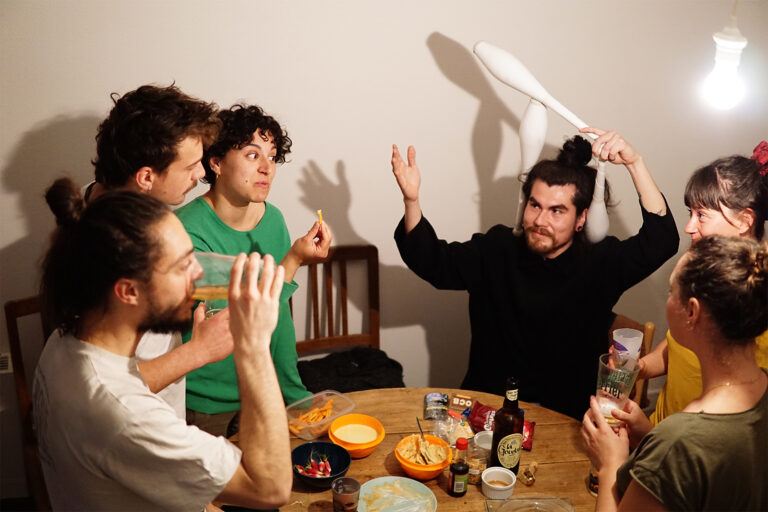 ©Cie Première Intention and Romain Marguaritte
Allô Juggling!
Cie Première Intention
20 min per delivery

/

For all

/

Festival /

Coproduction
In situ, Small format
Participatory
Outside the Walls
Representation(s)
The representation has passed

Du Wednesday 10 May 2023
au Sunday 14 May 2023
Reception area :Tour in Essonne

Information and reservations at the Scène Nationale de l'Essonne, Évry Courcouronnes :
01 60 91 65 65
The representation has passed

Du Monday 04 April 2022
au Friday 08 April 2022
Reception area :At your house

Free on reservation
Try to remember the face of the delivery person who brought your last order. Difficult isn't it? Have you ever tried the juggled menu command? With home delivery of juggled menus, it will be impossible for you to forget your delivery person! Our wish is to create human ties by playing on the border between art and everyday life. We come as you are: the proposal and the jugglers adapt to the spaces as they are, no need to push the furniture or arrange the interior to receive a juggled delivery.
First Intention Co.
Led by Renaud Roué, Compagnie Première Intention aims to raise questions about universal feelings by creating parallels with what constitutes the very essence of juggling. Success, failure, repetition and challenge are inseparable from the committed and sensitive juggling that the company wishes to develop. Beyond a graphic material and a body-to-object relationship, manipulation work constitutes a means of expression and exchange-reflection on sensations: juggling thus makes it possible to feel one's emotions and to be a medium to express them.
It was with Versatile, the company's first show, released in April 2018 at the Rencontre des Jonglages festival organized by the Maison des Jonglages in La Courneuve, that the reflection was initiated. In this creation co-directed with Johan Swartvagher, the vast palette of human characters and their sudden and unpredictable fluctuations have been highlighted and questioned. Renaud questions, in all honesty towards the spectator, the fundamental parameters of juggling: success, failure, repetition of the gesture and stakes. These parameters provoke intense emotions that spectators are also led to feel in front of a sporting exploit.
It is to address these questions that during the writing process of Versatile Renaud met different audiences to discuss and learn about sudden changes in mental state. It seemed essential to us to develop under the successful format of artistic action what was initially thought specifically from the point of view of artistic research. The goal is to allow the participants to experience these emotional fluctuations and to deal with them through juggling. This is how the cultural mediation component of Compagnie Première Intention came into being, which is now intrinsically linked to its DNA.
With Allô Jonglage ! the company is now starting the third part of its reflection, by working on a hybrid project of a juggling show in the home.
[Distribution]
Jugglers :
Renaud Roué
Lucien Coignon
Félix Didou
Baptiste Ghibaudo
Paul-Emmanuel Chevalley
Gaëlle Cathelineau
Olivier Caignart
Matias Zambrano
Christian Serein-Grosjean
Outside look :
Christophe Moyer
Coordinator :
Flora Laborde
[Production]
Production: Cie Première Intention and Filage – Coopérative d'accompagnement des acteur-trices artistiques et culturels-les
Coproduction : La Verrerie d'Alès – Pôle National Cirque Occitanie / La Cascade – Pôle National Cirque Ardèche, Auvergne, Rhône-Alpes / La Batoude – Centre des Arts du Cirque et de la Rue / UP – Circus & Performing Arts [anciennement Espace Catastrophe] / La Maison des Jonglages – Contracted Stage Juggling(s) / Cirqu'Evolution Network / Sham Spectacle – Magic art circus center in the public space.
Hosted by: Créateurs de rencontres et d'action culturelles, Montrem / L'Atalante de Mitry-Mory / L'Orange Bleue* d'Eaubonne / Espace Germinal, Scènes de l'est valdosien.
> Hello Juggling Facebook