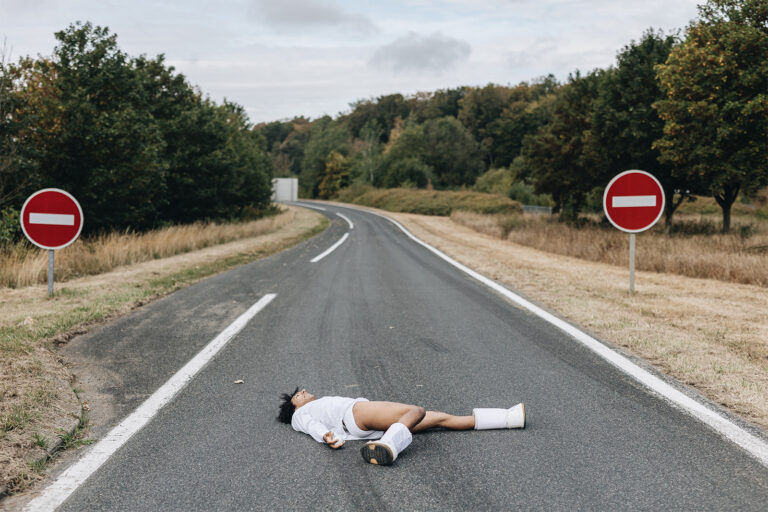 © Pierre Morel
Crust
Cie Defracto
30 mins

/

From 8 years old

/

Festival /

Coproduction
Creation 2021, Medium size
Balls, Foot juggling
Frontal
Heart of the festival, Outside the Walls
In 2022, circusnext celebrates its 20th anniversary! The association honors its laureates and organizes, with its partners in France and in Europe, events to celebrate this great journey and look forward to the next 20 years.
The presentation of Croûte by Compagnie Defracto (winners 2009-2010) confirms a long-standing relationship with the Maison des Jonglages and accompanies the beginning of a new stage in the life of circusnext, with the opening of the Ferme Montsouris (Paris, 14th arrondissement) where Compagnie Defracto will be an associate artist.
Croûte is a 30 minutes long performance in situ with multiple bodies, unpredictable juggling, and a ridiculous virtuosity. Physically engaging, hyper-contextual, Croûte is the result of a decade of research into expressive juggling and physical humour.
Cie Defracto
Company founded in 2008 by Laure Caillat, Guillaume Martinet, Minh Tam Kaplan and David Maillard, Defracto works to create body language and juggling. Each project is a collaboration, all actors are co-actors and participate in the design of the project. The collegial dimension of musical, scenographic and juggling writing is a constant. Based in Ile-de-France, the company creates abstract and absurd pieces, all based on experimental and playful juggling, composed with minimalist and custom-made sound and light.
The Defracto Company will be accompanied by three cultural operators in the Ile-de-France for the next few seasons: La Coopérative De Rue et De Cirque/RueWATT, circusnext/Ferme Montsouris and La Maison des Jonglages. A collective adventure to follow…
The Defracto Company is supported by the Department of Seine-Saint-Denis in the context of its residency at the Maison des Jonglages in La Courneuve
[Distribution]
Juggling :
Guillaume Martinet
Outside look :
Mathilde Roy
Inner views :
Dina Robert
Margot Seigneurie
[Production]
Production:
Cie Defracto
Co-productions & residencies :
La Maison des Jonglages / scène conventionnée La Courneuve ; Cirquonflex in partnership with Théâtre Mansart – Dijon ; l'Aube de la création – Chalon dans la Rue
> More informations on the show and the company