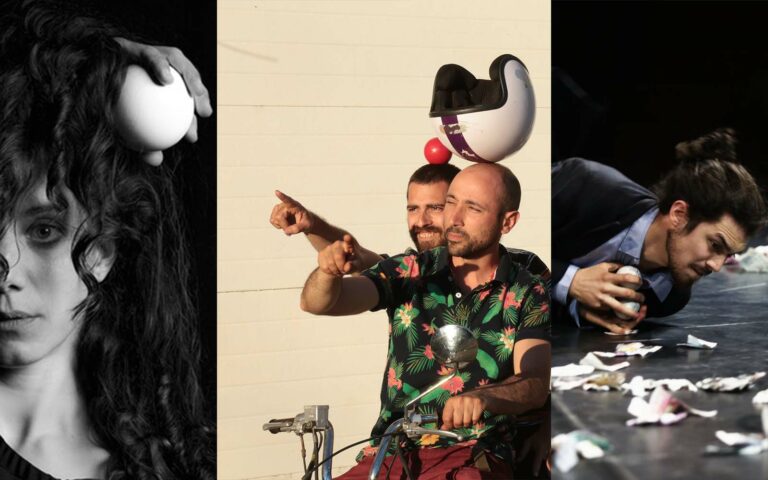 ©: naturalpics ©: Emilie Beffara ©: Frederic Guerry
Plateau Petits Moyens Formats
Cie WCS ; Ariane Oechsner ; Félix Didou
60 mins

/

For all

/

Festival
Act, Medium size, Small format
Balls, Newspaper
Frontal
Heart of the festival
Representation(s)
The representation has passed

Sunday 10 April 2022 / 15:00

Full rate: 12€
Courneuve resident rate: €10
Reduced rate & tax refunds: €6
Festival pass full rate :60€
Festival pass reduce rate : 30€

Perfect Timing
A set of rhythmic and timed circus feats. Through juggling, two characters try to dilate, but also stop or accelerate, time. At the same time, they offer us historical anecdotes. This show questions the use of time: why do a lot of things if you can just as well do nothing ? How long can we stay focused on the same situation ? What is a reasonable, normal, or suitable duration ?
Dis.cover
Ariane presents us an excerpt from Dis.cover, a show that questions the construction of the female body and the stereotypes and archetypes attached to it.
The artist experiments with concealment and exposure: She both hides and reveals parts of the body, she moves and handles objects. The audience discovers a multidimensional person, full of conflicts and paradoxes – a female body full of strange abilities, bizarre flaws, and whimsical movements. Dis.cover is a juggling show that questions the gaze and perception of the audience. A small, modest form, calm, political, and a bit funny.
L'Extra Quotidien
Back home, a lonely man whose only attachment to the world is his newspapers finds his apartment ransacked. In his quest to find the reason behind this chaos, the elements gradually turn against him.
Is someone pulling a nasty prank on him or is just he going crazy?
Félix Didou wrote this act like a short horror story. Since he corrupts the audience's perception thanks to magic, it becomes difficult to distinguish reality from hallucination.
L'Extra Quotidien is a preparatory act for the upcoming performance Un jour de Neige which will be released in October 2022.
[Distribution]
By and with :
Juan Duarte Mateos et Namer Golan (Perfect timing)
Ariane Oechsner (Dis.cover)
Félix Didou (L'extra quotidien)
Outside look :
Domingos Leconte (L'extra quotidien)
[Production]
WCS Co.
The National Lottery of Israel // Ministry of Culture of Israel // Tmoona Theater // La Maison des Jonglages, La Courneuve subsidized stage // La Virgule, independent theater factory
Ariane Oechsner
Tollhaus Karlsruhe (DE) // Maison des Jonglages (FR) // Berlin Circus Festival (DE) // Salla 100 (HRV) // Chamäleon Theater Berlin (DE) // Circus Re:Searched supported by Cirqu'Aarau (CH) // Zirkusquartier Zürich (CH) // Kaskade Festival (AT) // Sandkasten Syndikat* (AT) // Urhof 20 (AT) // TRAP (AT) // Katapult (DE) // Manege at Festival On the Edge supported by KreativKultur (AT) // ESACTO'Lido Project Formalization (FR)
Felix Didou
Regional Center for Circus Arts Lomme (59) // Olympia Hall, Lomme (59) // Maison Folie Beaulieu, Lomme (59) // Massenet Theater, Lille (59) // Dance Creation, Marcq-en- Baroeul (59) // Tandem National Stage, Douai (59) // Le Boulon National Center for Street Arts, Vieux-Condé (59)
Special information(s)
[*Reduced rate]
For unemployed people, recipients of the RSA, large families, students, minors, Vermeil card recipients, differently-abled people, groups of more than 10.
[Festival Pass]
[Professional Reservation]