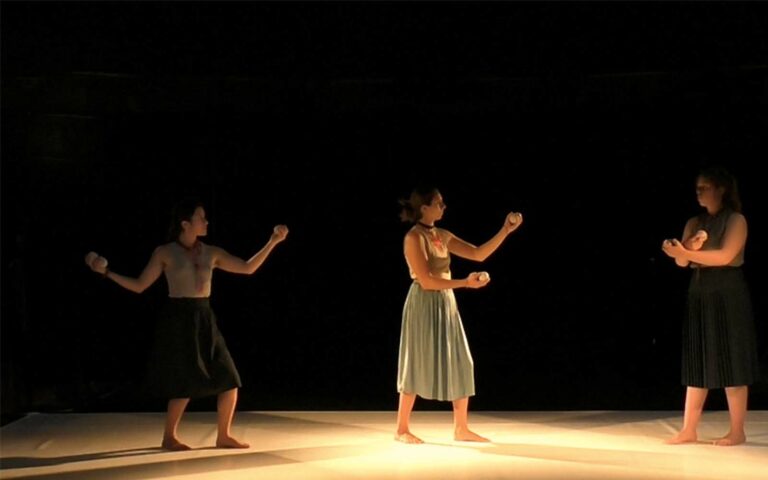 ©: Studio Phantom / Sébastien Vilt
Scènes étranges dans la mine d'or
Studio Phantôm
60 mins

/

From 10 years old

/

Festival /

Coproduction
Creation 2021, Long form
Balls, Foot juggling
Frontal
Heart of the festival, Outside the Walls
Representation(s)
The representation has passed

Sunday 03 April 2022 / 15:00

Full rate: 20€
Reduced rate: 15€
Half price, members and partners: 10€
The representation has passed

Friday 08 April 2022 / 20:30

Full rate: 12€
Courneuve resident rate: 10€
Reduced rate & tax refunds: 6€
Festival pass full rate : 60€
Festival pass reduce rate : 30€
This play takes as a starting point the oldest known representation of juggling: three female jugglers with three balls, a mural from 4000 years ago, in a tomb in Egypt.
In between documentary and intimate story, the author explores image confusion: the beginning of an association process of forms, representations. Superimpositions of eras and cultures, from the jugglers of the Antiquity to those of today, passing through The Three Graces by Raphaël (and other more or less famous figures).
In a hybrid score of juggling and dancing, three women make them appear on stage, in flesh and blood.
Elsa Guerin
For all she is passionate about painting, visual arts, music -especially progressive and repetitive, ancient and contemporary-, cinema, theater, dance, but also human sciences and philosophy, Elsa Guérin is nevertheless a juggler and works with a broader vision of juggling.
In between hypnotic movements, funny or tragic games, her projects investigate the choreographic and dramatic potential of juggling and the physical act, combine abstraction and metaphor of human dramatics, and seek a contemporary writing for the circus teetering on the brink of other arts.
She studied at the Beaux-Arts in Clermont-Ferrand before training in juggling with Nadejda Aschvits, Maksim Komaro, Martin Schwietzke… and especially Jérôme Thomas. During her childhood, she practiced classical and jazz dance, and later, contemporary dance, in particular with Hervé Diasnas.
She was associate artist-author until the end of 2018 at the Sirque PNC of Nexon Nouvelle-Aquitaine, and also the executive producer of her projects.
In October 2019, she founded Studio Phantôm to produce her artistic projects.
[Distribution]
Choreography, direction and script :
Elsa Guérin
Perfomance :
Kate Boschetti, Sarah Bourhis et Mathilde Robin
Collaboration on the dramaturgy :
Delphine Lanson
Sound arrangements :
Sylvain Perruche
Light :
Grégoire Plancher
production manager :
Satya Gréau
[Production]
Production
Studio Phantom
Co-production
Le Sirque National circus center of Nexon Nouvelle-Aquitaine (87), La Verrerie National circus center of Alès Occitanie (30), La Cascade National circus center of Bourg St Andéol Auvergne Rhône-Alpes (07), L'Agora National circus center de Boulazac Nouvelle-Aquitaine (24), La Maison des Jonglages stage with agreement in La Courneuve (93), Théâtre d'Aurillac stage with agreement (15), Théâtre Les Bords de Scènes, Grand-Orly Seine Bièvre in Juvisy (91), l 'Avant-Scène subsidized stage in Cognac (16) + OARA MECA in Bordeaux (33)
Residential homes
The PNC Sirque of Nexon Nouvelle-Aquitaine, The PNC Glassworks of Alès Occitanie, The PNC Waterfall of Bourg St Andéol Auvergne Rhône-Alpes, The Agora National Circus Pole of Boulazac Nouvelle-Aquitaine The A4 at St Jean d'Angély ( paid residency OARA), the Avant-Scène subsidized stage in Cognac, ONYX Theater subsidized stage in St Herblain, OARA MÉCA in Bordeaux
+ La Maison des Jonglages stage at La Courneuve (pre-audition lab reception 2019)
Support
Ministry of Culture and Communication DRAC Nouvelle-Aquitaine (aid for the project
Special information(s)
[*Reduced rate]
For unemployed people, recipients of the RSA, large families, students, minors, Vermeil card recipients, differently-abled people, groups of more than 10.
[Festival Pass]
[Professional Reservation (Only on Friday 8th of april)]