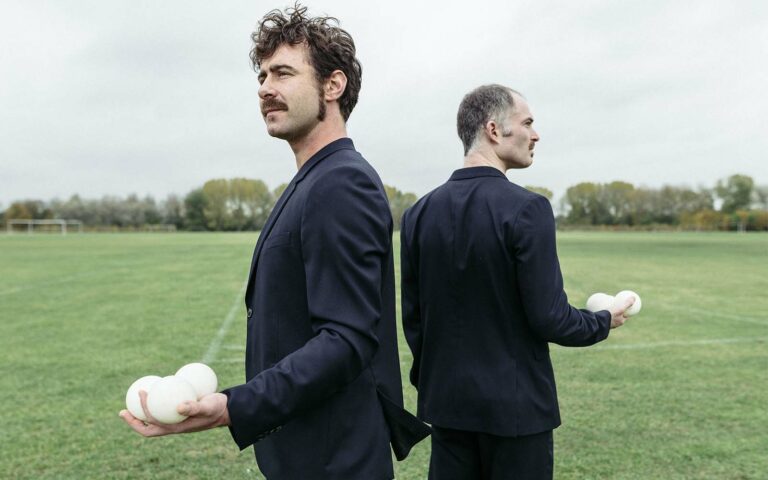 ©
Gibbon
Patfield & Triguero
50 mins

/

For all

/

Festival
French premiere
Balls, Juggling
Poetry, Virtuosity
Frontal
Heart of the festival
Representation(s)
The representation has passed

Sunday 10 April 2022 / 18:00

Full rate : 12€
Courneuve resident rate: 10€
Reduced rate & tax refunds: 6€
Festival pass full rate :60€
Festival pass reduce rate : 30€

Gibbon
is
a surrealistic and enchanting celebration of choreographed juggling, with a great sense of humor and a touch of absurdity.
The ability to succeed and at the same time conceal your failures is Gibbon's starting point. Indeed, this performance is punctuated by constant back-and-forths between hypnotic juggling sequences and game sessions. A captivating and entertaining show, which combines technical skills with great complicity on stage.
Gibbon plays on the confusion between reality and fiction. An ever-growing spiral of confusion is born, thanks to the comical and disconcerting events which transpire on stage.
Patfield & Triguero
The founders of the company are Spaniard Jose Triguero and Scot Chris Patfield.
They met while studying at the National Center for Contemporary Circus in London (NCCA).
Since 2012, they have been in close collaboration with Gandini Juggling- a juggling company- by performing in several of their shows.
In 2017, they decided to join forces to carry out their own GIBBON project. Since its release both in theaters and outdoors in 2018, Gibbon has toured various countries to date. The prestigious "Total Theater Award"  was nominated in the Dance category for the Best Show award at Edinburgh Festival in 2018.
[Distribution]
By and with :
Jose Triguero et Chris Patfield
Outside look :
Flick Ferdinando
Music :
Kevin Toublant et Benji Bouton
© :
Stanislav Briza / Kenny Maths / Andy Live Wire Image
[Production]
Co-Production: Gandini Juggling and SEDA Producciones
Funded by Arts Council England
> Discover more about the "Gibbon" project
Special information(s)
[*Reduced price ]
For unemployed people, recipients of the RSA, large families, students, minors, Vermeil card recipients, differently-abled people, groups of more than 10.
[Festival Pass]
[Professional Reservation]