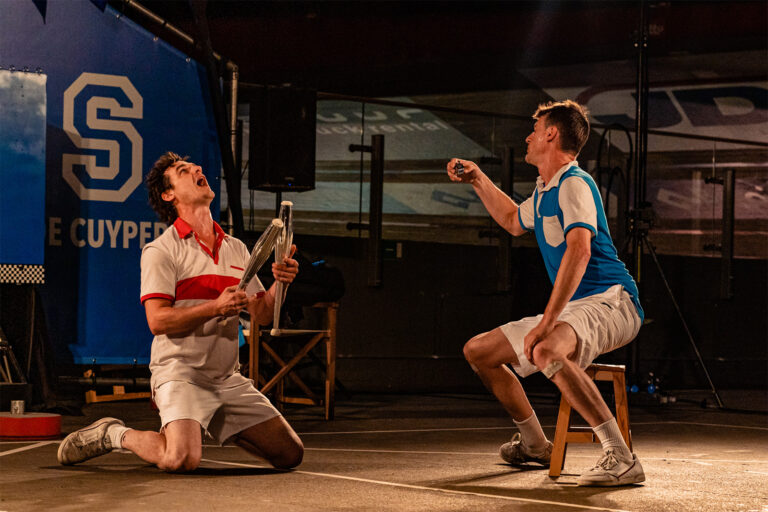 ©Gaetandardenne
De Cuyper vs. De Cuyper
Cie Pol & Freddy
55 mins

/

For all

/

Festival
Long form
Arts / Sports, Clubs
Frontal
Heart of the festival
Representation(s)
The representation has passed

Saturday 09 April 2022 / 14:00
Reception area :Fraternity Square

Free
In a whirling sports stadium, two juggling brothers compete.
All the codes of known, less known and invented sports are used: heroism and fair play, injuries and sponsorship, doping and bent rules. Enthusiastic supporters, a strict referee and a not always objective commentator complete the picture. One thing is certain, one brother will leave the arena as the winner and another as the loser.
Cie Pol & Freddy
Cie Pol & Freddy was created in 2006 by Bram Dobbelaere and Sander De Cuyper. They met for the first time in 1999 at the circus school in Bruges. Their common passion for juggling, acrobatics and absurd humor led them to create "Ready!" a show combining innovative juggling and acrobatics, borrowing from silent films. This show is performed indoors and on the street, and won the public prize and the jury prize at the 2007 Humorologie festival and the public prize at the MiraMiro festival in 2008. In 2013, Bram and Sander created "The Democratic Circus of Belgium" with Gab Bondewel. A circus show in which spectators have the right and the duty to vote to decide the form and content of what they watch. This humorous investigation into the borders of democracy and the dictatorial tendencies of the majority played its last in September 2019.
[Distribution]
By and with :
Jordaan De Cuyper
Sander De Cuyper
Bram Dobbelaere
Outside look :
Benjamin de Matteïs
[Production]
This creation is carried out with the support of the Flemish Government.
Co-producers:
Mira Miro, Perplx.
Residential homes:
Mira Miro, Circuscentrum, Theater op de Markt, Espace Catastrophe, CAR Ath, La Cascade, Latitude 50°, Ateliers Frappaz.
> More informations on the show and the company
Special information(s)
[*Reduced fares]
For unemployed persons, RSA beneficiaries, large families, students, under 18 years old, Vermeil card holders, disabled persons, groups of more than 10 people.