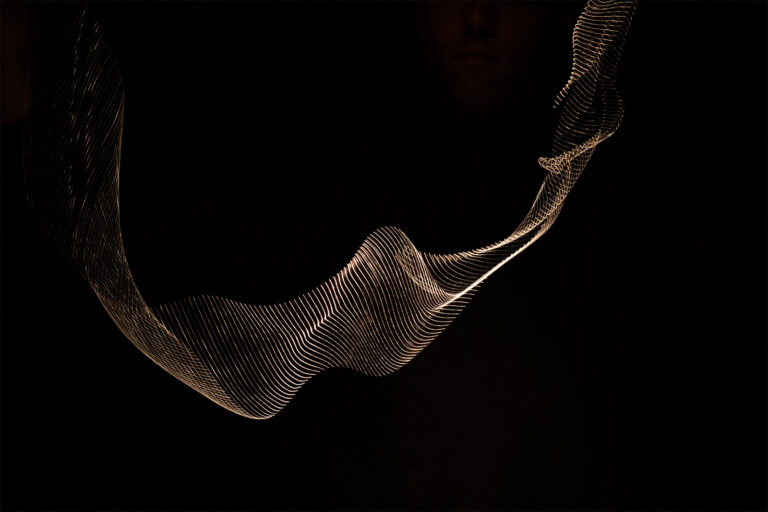 ©Angela Malvasi
Tout | Rien
Cie Modo Grosso
55 mins

/

From 7 of age

/

Festival
Creation 2021, Long form
Circus of objects
Poetry
Frontal
Heart of the festival
Representation(s)
The representation has passed

Sunday 10 April 2022 / 13:30

Full rate: 12€
Courneuve resident rate: 10€
Reduced rate & tax refunds: 6€
Festival pass full rate :60€
Festival pass reduce rate : 30€

The representation has passed

Sunday 10 April 2022 / 19:30

Full price: 12€
Courneuve resident rate: 10€
Reduced rate & tax refunds: 6€
Festival pass full rate :60€
Festival pass reduce rate : 30€

How to make people see, feel and capture the essence of time in the nude ? How to give passing time a shape and seize it while it still moves ? This is the challenge that Alexis Rouvre and his "circus of objects" have decided to tackle. As a juggler of time rather than gravity, he has found his artistic inspiration in the astrophysicist Carlo Rovelli : "Bodies move naturally where time passes more slowly". The alchemist of vanities draws out a dense poetic work out of very simple objects – a knit, a chain, a stone. He opens a door to the passing moment : the one which doesn't last but sustains everything.
Cie Modo Grosso
Compagnie Modo Grosso came to be in 2015, when circus artist Alexis Rouvre met dancer and visual artist Tiziano Lavoratornovi. Their association has led them to explore the notion of attachment- through dance, acrobatics, and objects handling. They confront the image of a man wearing a dog collar with various devices: by in situ or interactive performances, within plastic installations that they create or by video objects during several collaborations with the videographer Nina Cholet.
From these experiments was also born, in 2017, the street show "Laisse ! ".
Together or separately, Alexis and Tiziano wish to expand the company's repertoire, in particular by multiplying collaborations with actors from other artistic disciplines. This is how the show "Entre-cordes" was created in 2019, an encounter between the work of Alexis Rouvre and the music composed and played on the harp by Déborah Colucci.
Currently in extension, the company is distinguished by its desire to create atypical shows that broadly explore the symbolic relationship of objects or elements with the moving body, space and the spectator. Through substantial research work and their desire to create links between authors, Alexis and Tiziano wish to build a favorable ground for the emergence of new and living writings, without compartmentalization to a genre or a place.
Alexis Rouvre is director and co-creator of the contemporary circus company Modo Grosso. Graduated from ESAC in 2009, he is a juggler, acrobat and dancer. During his studies and since then, he experimented with the manipulation of strings, thus creating a new discipline. His research generates various numbers that he plays between festivals and cabarets as well as the only on stage "Cordes" in 2014 and the duet with harpist Déborah Colucci "Entre-cordes" in 2019.
The object being often at the center of his work, he associates it with a strong physical presence which he enriches in particular by taking courses with the dancers David Zambrano, Peter Jasko, Roberto, Olivan, Martin Kilvadi. This is how he met Tiziano Lavoratornovi with whom he created "Laisse !" in 2017, a choreographic performance for the street on the theme of attachment.
As a performer, between 2016 and 2017 he joined the creations "HIP 127, La constellation des cigognes" by the Jérôme Thomas company and "Entre ciel et terre" by Martin Palisse.
[Distribution]
By and with :
Alexis Rouvre
External view and scenography :
Jani Nuutinen
Musical composition :
Loïc Bescond
Design and construction of scenography :
Alexis Rouvre
Jani Nuutinen
Sylvain Formatché
Jean-Marc Billon
General management :
Hadrien Lefaure
Administration :
Victoria Makosi
[Production]
Production:
Modo Grosso ASBL
Co-production and residency support:
Transversales, stage approved by the Verdun circus (FR); Provincial Domein Dommelhof (BE); Le Sirque, National Center for Circus Arts in Nexon – Nouvelle-Aquitaine (FR); SurMars – Mons Performing Arts (BE); Juggling house, contracted stage Jonglage(s) (FR); AY-ROOP, regional scene for the circus arts (FR); Central (BE).
Co-production:
Halles of Schaerbeek (BE)
Welcomed in residence by:
Peripheral Space (FR); The Theater Factory (BE); Marni Theater (BE); Latitude 50 – Circus and street arts center (BE); Espace Catastrophe, international center for the creation of circus arts (BE); Maison de la Marionnette, puppet center of the Wallonia-Brussels Federation (BE); House of creation in Bockstael (BE); CCBW – Cultural Center of Walloon Brabant (BE) Le Tas de sable – Ches Panses Vertes, National Puppet Center in preparation (FR)
Aided by:
Wallonia Brussels International (BE); Rural Writing Grant – Latitude 50, La Chaufferie-Acte1, SACD and SSA (BE); Iportunus – Creative Europe Programme; LookIN'OUT (BE)
With the help of the Wallonia-Brussels Federation, General Service for Artistic Creation – Fairground, Circus and Street Arts Service
Gratitudes:
Thanks to Stéphane Georis for "writing in the countryside" and for bringing flowers, to my friend Sylvain Formatché for his invaluable technical support, to Angela Malvasi for supporting and enlightening me, to David and Eddy from the workshop in La Fabrique de Théâtre, to Sander and Rudi from the Dommelhof workshop, to the See-U workshop, to Sandrine Causse for the ceramic work, to Julia Christ, to Roberto Magro and Guy Warenburgh for the little nothings of which everything left.
> More informations on the show and the company
Special information(s)
[*Reduced price]
For unemployed people, recipients of the RSA, large families, students, minors, Vermeil card recipients, differently-abled people, groups of more than 10.
[Festival Pass]
[Professional Reservation]