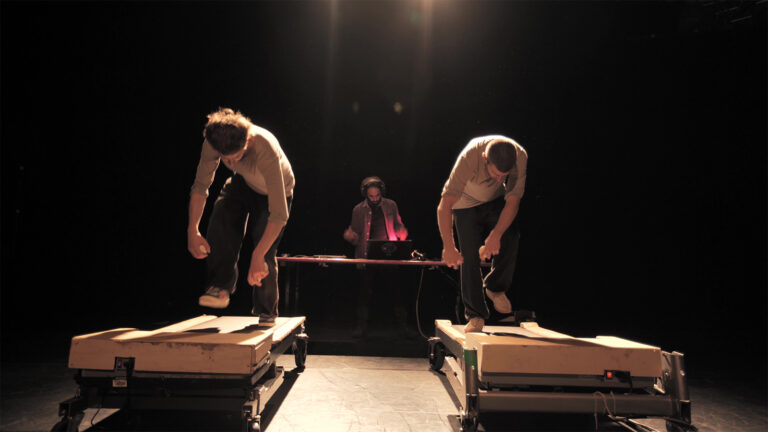 © Alex Allison
Runners
Hippana.Maleta
60 mins

/

From 8 of age

/

Festival
French premiere, Long form
Juggling, Music, Running
Absurd, Comedy, Poetry
Frontal
Heart of the festival
Representation(s)
The representation has passed

Sunday 10 April 2022 / 21:15

Full rate: 12€
Courneuve resident rate: 10€
Reduced rate & tax refunds: 6€
Festival pass full rate :60€
Festival pass reduce rate : 30€

Two jugglers find themselves bound to treadmills and their rules, while a musician conducts them through a series of games and experiments. A lively circus show which celebrates juggling and running.
Running is itself an incredibly efficient means of human locomotion. Have you ever thought about the number of muscles needed to run, the number of neural pathways between the head and the legs used for each jump, what it means in terms of body coordination, for something that seems to happen automatically? Juggling is a comparable phenomenon.
Our desire to celebrate the evolution of walking and throwing in a human way whereas our culture is becoming more motionless than ever led us to create RUNNERS- a circus show which combines excellent juggling, amazing objects and incredible sounds. Let's party and celebrate together!
Hippana.Maleta
The Hippana.Maleta company was founded in 2018 on the basis that juggling, object handling, and using your body can help build languages to explore aspects of the human condition. Alex Allison (IE), Jonas Schiffauer (DE) and Moisés Mas García (ES) share and develop a specific vision of circus, poetry and performance.
[Distribution]
Staging :
Alex Allison
Jonas Schiffauer
Perfomer :
Alex Allison
Jonas Schiffauer
Moisés Mas García
Dramaturgy and choreographic accompaniment :
Benjamin Richter Darragh
Mc Loughlin
Anna-Katharina Andrees
Marie Lena Kaiser
Costume design :
Liora Epstein
scenography :
Jonas Schiffauer
Alex Allison
Moisés Mas García
Graphics and video :
Alex Allison
[Production]
Production :
Hippana Maleta
Funded by :
– NEUSTART KULTUR // Fonds Darstellende Künste mit Mitteln der Beauftragten der Bundesregierung für Kultur und Medien (Fund for the teaching of art and media)
– NRW Landesbüro Freie Darstellende Künste mit Mitteln des Ministeriums für Kultur und Wissenschaft des Landes Nordrhein-Westfalen
– Kulturamt der Stadt Köln (Office of Culture of the City of Cologne)
– Arts Council of Ireland
– Zirkus ON
Co-produced by :
Aided by :
ION Instruments
Johnson Health Tech
artistic residencies
Atoll Festival – Tollhaus Karlsruhe
Barnes Crossing, Cologne
Katapult Berlin
Strada Bremen
Latibul (ZAK), Cologne
Latitude 50, Marchin
Open Space, Bochum
Am Hafen district, ZAIK Köln
Ruhrfestspiele Recklinghausen
Schaulust Bremen
Awards :
Zirkus ON 2021 / BUZZ
first
2021, Dec 10, Köln / Cologne DE
> More informations on the show and the company
Special information(s)
[*Reduced rate]
For unemployed people, recipients of the RSA, large families, students, minors, Vermeil card recipients, differently-abled people, groups of more than 10.
[Festival Pass]
[Professional Reservation]